Just ten minutes' drive from Sheffield City Centre, Forge Dam Cafe nestles in heart of the beautiful Forge Dam Park.
Take a walk on the footpaths, ride the cycle paths and bridleways, explore the woods, play at the playpark, or just feed the ducks – you can do as much (or as little) as you feel like. Whatever you do, make sure you visit us at Forge Dam Cafe; a family-run business in the heart of the park in the heart of the Peak District.
Whether you're looking for a flat white or a pot of tea, a salad or a bacon sandwich, a slice of cake or a burger with chips, we have something for you and your family.
For children, we have a ball pool, a reading corner filled with books for all ages, and the playpark to the side of the cafe. There's a sheltered area outside too, so that kids of all ages can run around on the lawn while you have some refreshment.
Come visit Nick and the team!
A LOVELY PLACE TO RELAX
For families trampling through the surrounding woods, couples feeding the ducks, dog walkers stretching their legs, and anyone and everyone in between, you'll find a calm and friendly place to relax at Forge Dam Cafe. For kids, we have a ball pool, children's menu, and next to the cafe there is a terrific playpark. For canine friends we have dog tie up points and water bowls, and if you prefer to sit outside, we have a sheltered seating section. Cycling to us? Make use of our bike parking area. We have free parking just a few minutes walk from the cafe, and our friendly staff will make you feel at home as soon as you walk in the door.

BARISTA COFFEE
We're massively proud of our coffees: locally-roasted beans, freshly-ground to our exacting specifications, and expertly-crafted by our coffee-loving baristas.

HOME-COOKED FOOD
From cooked breakfasts to burgers, soups to stews, vegetarian to vegan, we have got you covered. Our menu is extensive and regularly refreshed to always offer something new!

GREAT CAKES
We all need a treat every now and then, and whether you prefer a simple sponge, a scone, or something chocolatey and luxurious, we have got something for every sweet tooth.
OUR STORY
Forge Dam Cafe is a family affair, and Nick Dunn was destined to own it eventually: his grandparents had the lease for 27 years and Nick was almost born in the cottage next door! Back in 2012, Nick left his career in the private sector to take over the traditional timber-framed cafe, next to the River Porter. 
Since then, it has gone from strength to strength; building on our core customers' favourites while bringing this 100-year-old Sheffield institution into the 21st century through extensive investment inside and out. Instant coffee has been replaced with top-quality barista-style coffee, and while the menu has come on leaps and bounds, we're still the best cooked breakfast around. 
The cafe was originally Walkley Methodist Hall before it was dismantled and brought down the valley in the 30s. We are proud to be part of Sheffield's cultural heritage, and you'll hear us mentioned in Pulp's 'Wickerman' song. If you get lucky, you might even bump into Richard Hawley or Nick Clegg, who have been known to frequent us. 
LOCATION, GETTING HERE, & OPENING HOURS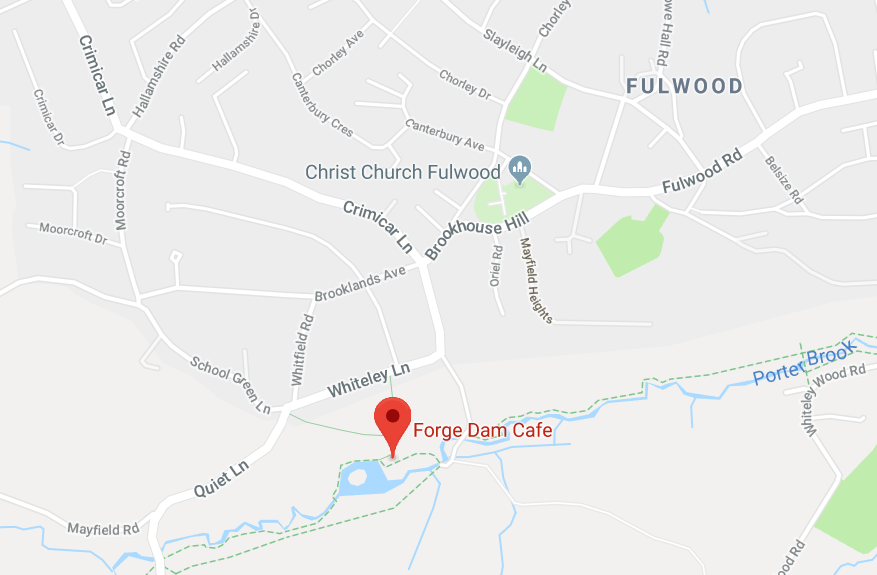 FORGE DAM CAFE
Brookhouse Hill
Sheffield, S10 3TE
OPENING HOURS
Mon-Sun, 930-5
We are open as normal with the following exceptions:
Christmas eve: 930-4
Christmas day: CLOSED
New year's eve: 930-4

WALK TO US
You can walk to us from Endcliffe park on part of the Sheffield Round Walk. Flat and easygoing, it's suitable for children and people with limited mobility. It also starts and ends with cafes and playgrounds.

BY CAR
We have free parking just a few minutes walk from the cafe and are easily-accessible from all directions of travel. Let us know if have limited mobility and we can reserve a parking space right next to the cafe.

HOP ON THE BUS
Using the bus? Not a problem! Use the bus routes to Fulwood (120 from the centre of town via Fulwood Road), and the 83A from Fargate and Eccleshall Road then complete the final 5-10 minutes by foot.